DURR
Regular price
£8,995.00
Sale price
£8,499.00
Unit price
per
Sale
Sold out
More colours, increased diversity, more efficiency
Quick and easy scanning
With the Easy Feed concept you can scan image plates very quickly, one after the other. The interchangeable inserts make it possible to digitise all intraoral image plate formats.
ScanManager – for efficient working
Scanning tasks can be sent simultaneously from different workstations to VistaScan Mini View 2.0. Select the required task on the display, carry out the scan and perform a diagnosis on the PC screen straight away.
Scanning without a PC is possible
Thanks to the standalone mode, you can also work independently of the network. Images are stored temporarily in the internal memory of the device and then transmitted to the database later on.

All intraoral formats
VistaScan Mini View 2.0 can be used to digitise all intraoral image formats – from size 0 to 4.
Ambient Light
The LED lighting of the VistaScan Mini View 2.0 will add a nice touch of colour to your practice. You can freely choose a colour that best suits the look and feel of your interior design.
Large glass touchscreen display
The colour 5" touchscreen display provides a user interface that is very easy to use.
Exceptional image quality thanks to PCS
VistaScan Mini View 2.0 can reliably highlight incipient caries lesions and make tiniest bony structures visible.
WLAN capability
The integrated WLAN functionality and the LAN interface make it incredibly easy to integrate the scanner in a network.
VistaScan IQ image plates
The high-performance VistaScan Mini View 2.0 unit is an image plate scanner that has been designed to meet the highest demands in terms of image quality, ease of use and performance. The best possible performance is only achieved in conjunction with VistaScan IQ image plates. This combination brings together both the tried-and-tested technology and exceptional image quality of the PCS technology with a number of new features that offer noticeable improvements in terms of ease of use, efficiency and reliability.
Sustainable right from the start
All our image plate scanners are manufactured with sustainability in mind, and our goal is to achieve CO² neutral production. Other divisions of DÜRR DENTAL are also committed to using resources in the most responsible way possible. With all of our products, it is important for us that we continue to improve energy efficiency and maximise service life by making all our units easy to repair and service. And, of course, last but not least everything is packaged in a safe and eco-friendly way.
Smarter workflows with SmartScan – automation to make your work more relaxed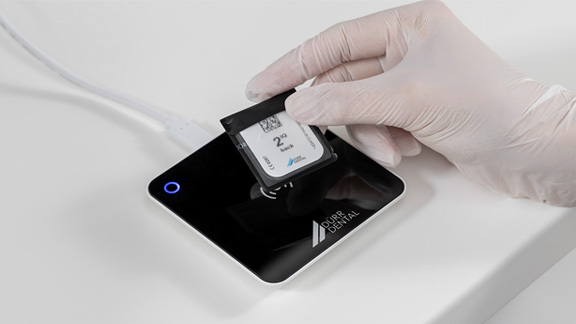 1. Assign the image plate
The VistaScan Smart Reader can be used to assign image plates to a patient in VistaSoft. This puts VistaScan Mini View 2.0 in "ready for image acquisition" mode.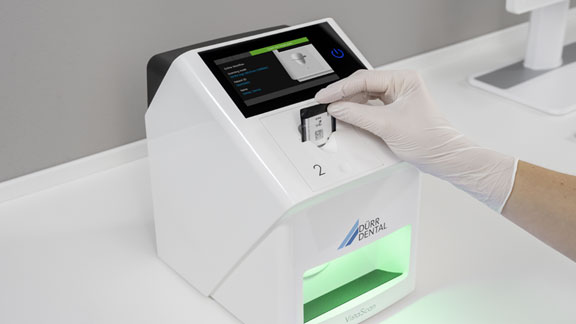 2. Scan the image plate
Now scan image plates from different patients in any any sequence, one after the other.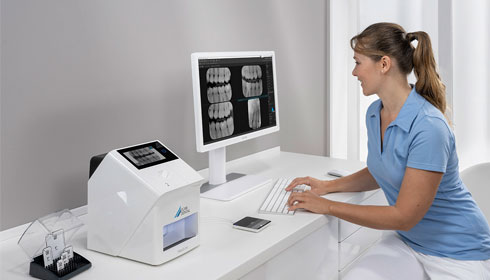 3. Assess the X-ray image
VistaSoft automatically assigns the X-ray images to the correct patients.
Share
View full details