NSK
Regular price
Sale price
£1,591.37
Unit price
per
Sale
Sold out
Shorter, Perfectly Balanced
Lighter and perfectly balanced, "nano series" instruments are designed to be natural extensions of the clinician's hand, ensuring smoother procedures. Even during implant operations that require delicate and precise movements, a "nano series" faithfully mirrors the user's intent. NSK continues to challenge the limits of manufacturing and pioneer next-generation contra-angles.


Technology & Function
Smart Miniaturization Enables Perfect Balance

NSK's nano series preserves the high performance NSK contra-angles are known for, while these new instruments are approximately 10 percent smaller and lighter than conventional models. Yet, in combination with NLX nano micromotor nano series gives you the ease of manoeuvrability and accuracy you are used to from your air-turbine.

Perfect Balance

Reducing size and weight shifts the center of gravity to an optimal position, dramatically reducing fatigue during procedures and improving your fingertip dexterity.

Smaller and Slimmer

nano95LS has smaller head and slimmer neck dimensions.

Microfilter

Microfilter to prevent particles from entering the water spray system to guarantee optimum water spray cooling at all times.

Titanium Body

Titanium body*. Light and very strong pure titanium is used for the body. The light handpiece reduces the burden on the hands during operations, and its enhanced hardness also improves its ability for autoclave sterilization. The biocompatible properties of titanium eliminate concern over allergies to metals.
*Titanium is used only for the exterior parts, and not for the interior.
nano95LS
1:5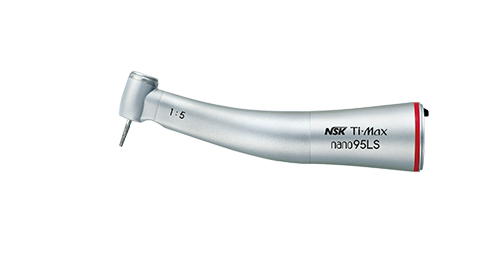 Optic

Model:

nano95LS

Order Code:

C1099
Specifications
Gear Ratio
1:5 Increasing
For
FG Burs (Ø1.6)
Water Spray
Quattro Spray
Body Material
Titanium
Body Coating
DURAGRIP
Max Speed
200,000 min-1
Features
Anti Heat System
Cellular Glass Optics
Ceramic Bearings
Clean Head System
Push Button Chuck
Microfilter
Exceptional Durability
nano25LS
1:1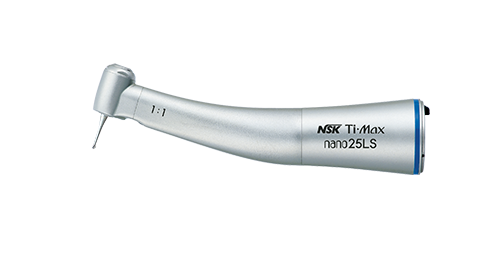 Optic

Model:

nano25LS

Order Code:

C1100
Specifications
Gear Ratio
1:1 Direct Drive
For
For CA Burs (Ø2.35)
Water Spray
Single Spray
Body Material
Titanium
Body Coating
DURAGRIP
Max Speed
40,000 min-1
Features
Anti Heat System
Cellular Glass Optics
Clean Head System
Push Button Chuck
Microfilter
nano15LS
4:1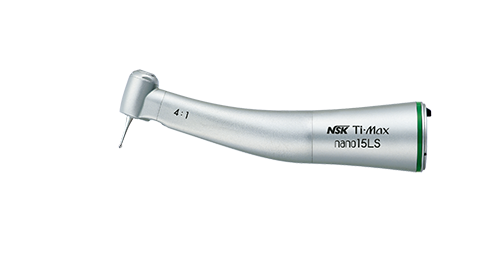 Optic

Model:

nano15LS

Order Code:

C1101
Specifications
Gear Ratio
4:1 Reduction
For
For CA Burs (Ø2.35)
Water Spray
Single Spray
Body Material
Titanium
Body Coating
DURAGRIP
Max Speed
10,000 min-1
Features
Anti Heat System
Cellular Glass Optics
Clean Head System
Push Button Chuck
Microfilter
nano65LS
1:1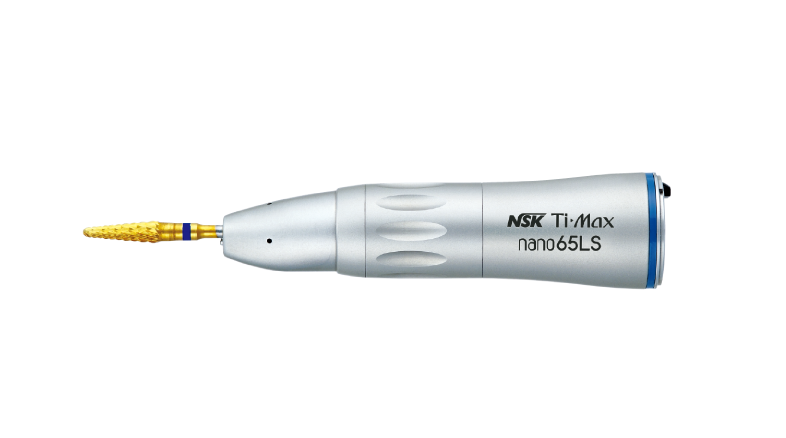 Optic

Model:

nano65LS

Order Code:

H1048
Specifications
Gear Ratio
1:1 Direct Drive
For
For HP / CA Burs (Ø2.35)*
Water Spray
Single Spray
Body Material
Titanium
Body Coating
DURAGRIP
Max Speed
40,000 min-1
* Need to insert the supplied bur stopper
Features
Cellular Glass Optics
Clean Head System
Share
View full details