NSK
Regular price
Sale price
£3,077.08
Unit price
per
Sale
Sold out
Automatically Lubricates
Technology & Function
Stylish & Compact

In the pursuing ultimate ease of use, NSK has given iCare the power to perform automatic maintenance for up to four handpieces at once.
iCare is also designed to be simple to set up and space efficient, you can install it virtually anywhere.

Easy to Clean

iCare's front door can be completely removed to allow fast, easy cleaning of the system.

Big Solution Tank

iCare's big solution tank has a capacity of 1.2 liters, allowing you to pour in a full one-liter bottle of maintenance solution at once, reducing the necessity for frequent refilling.
The enclosed nozzle enables clean and easy refills.

Handpiece Head Filter

Handpiece Head Filter is made to absorb any spray mist generated, which prevents mist leaks.

Purging Select Mode

After lubrication, you can select from appropriate modes offering different purge lengths.

iCare Maintenance Oil

The specially formulated maintenance oil provides for the highest levels of lubricating of handpieces.
iCare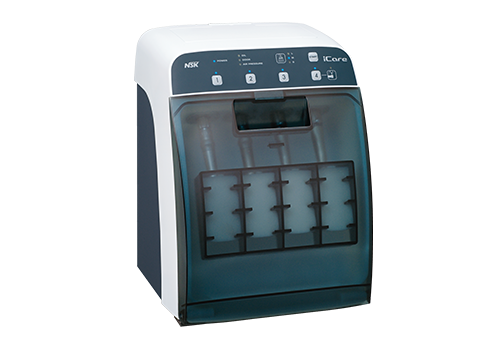 Specifications
Power Supply
AC 100-240 V 50/60 Hz
Air Pressure
0.5-0.6 MPa (5.0-6.0 kgf/cm2)
Weight
6.5 kg (C2 Type / C3 Type)
Dimension
W 280 x D 240 x H 350 mm
Solution Tank Capacity
1.2 L
* Connects only to Midwest 4-hole type
* Air piping is necessary (5.0-6.0 kgf/cm2)
Contents
iCare Unit
Power Cord
Chuck Lubrication Nozzle
Maintenance Oil for iCare (1 Litre)
Mist Filter Set
Oil Absorber Sheet
Air Tube
Dual Standard Ports + Dual Rotation Ports
Model:

iCare C2 Type (120 V)

Order Code:

Y1002796

Model:

iCare C2 Type (230 V)

Order Code:

Y1002787
Single Standard Port + Triple Rotation Ports
Model:

iCare C3 Type (120 V)

Order Code:

Y1002797

Model:

iCare C3 Type (230 V)

Order Code:

Y1002788
Share
View full details